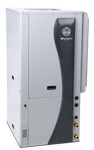 ATTENTION - The 30% federal tax credit for residential geothermal heat pumps and 10% credit for commercial has been restored! These tax credits are retroactive to Jan 1, 2017, so homeowners who bought a system last year are eligible. Call Peters today for complete details!
The Earth absorbs almost 50% of all solar energy and remains a constant temperature of 50°F to 70°F depending on geographical location. A geothermal unit utilizes this constant temperature for heating and cooling your home.
You can realize up to 60% energy savings vs. traditional systems. There is no flame, no flue, no odors and no loud outdoor equipment. Heating, air conditioning and hot water can all be attained from a single compact unit.